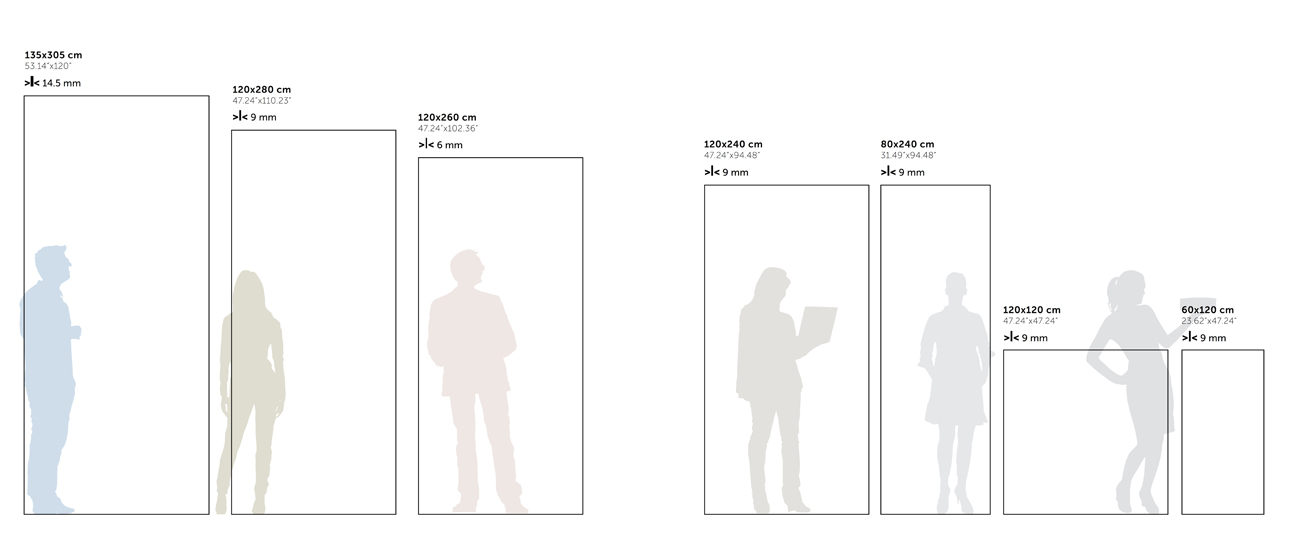 The design possibilities are endless.
Imagine a tiled space with virtually no grout lines.
Imagine limitless possibilities for your sufaces and unparalleled flexibility for any kind of applications.
Maximus is available in 3 thicknesses and a wide range of finishes and sizes.
Heat resistance, recyclable, light weight, durable and easy to clean. Maximus is the best answer to the most challenging architectural and interior design needs.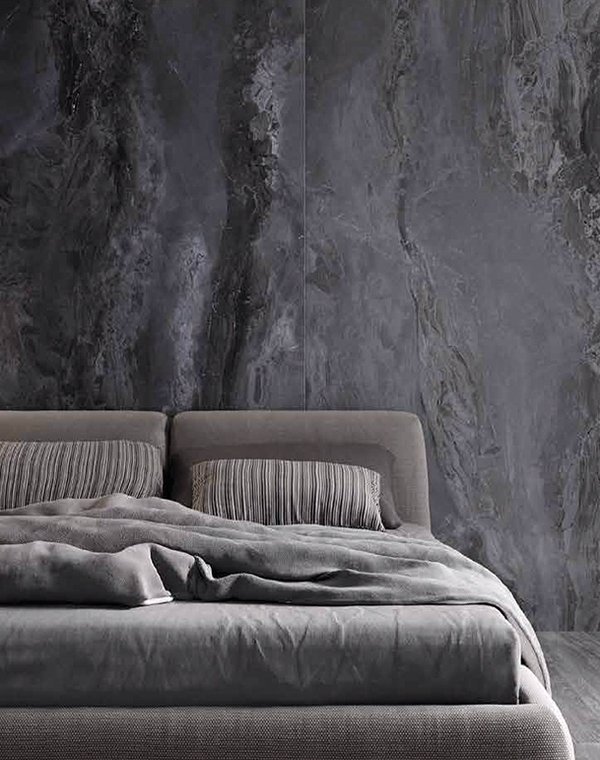 WALLS
The best solution to create astonishing vertical surfaces like kitchen walls, bathroom and all the other walls. Maximus gives to all your rooms a great personality and allows you to freely express your style.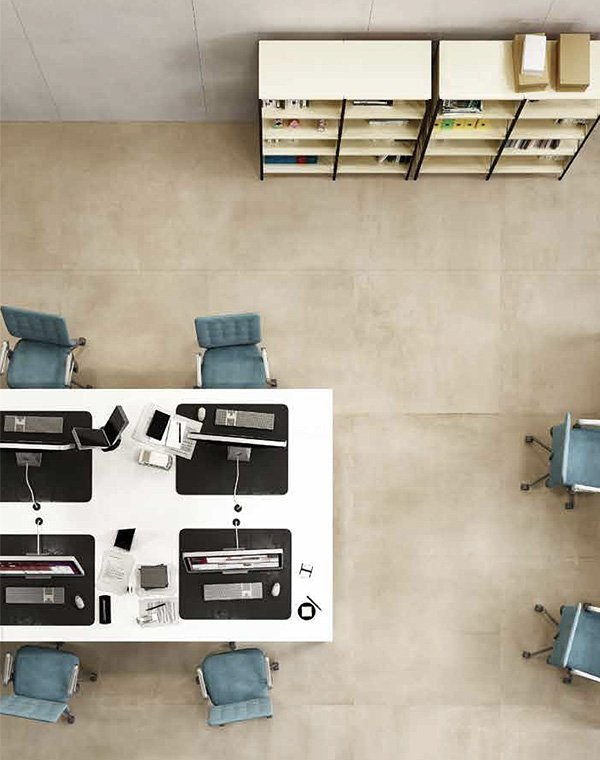 FLOOR
Maximus has created a world where big is beautiful – with visually expanded spaces and fewer design interruptions. The application on the floor is the best way to appreciate its endless possibilities, exhibiting incredible aesthetic appeal and high resistance to stress.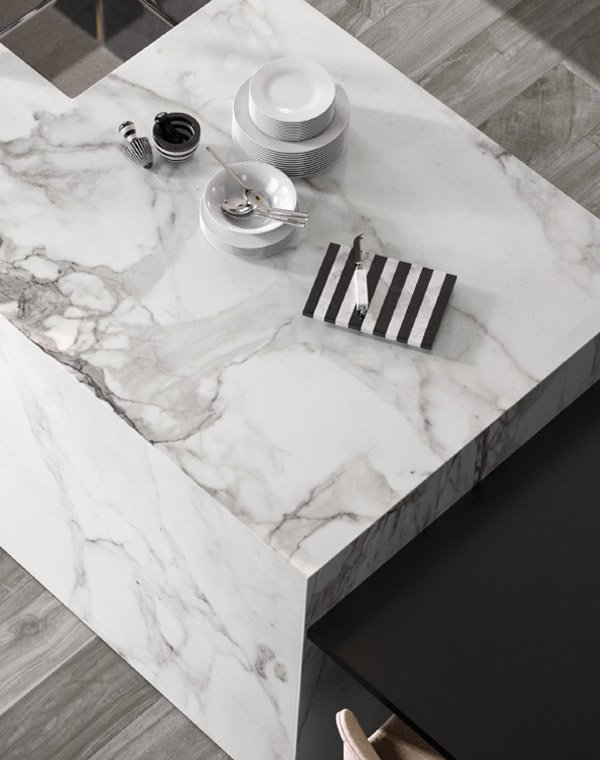 COUNTERTOP SURFACES
Countertop surfaces is the next generation of Maximus application: kitchen tops, vanity tops and stairs made from a single piece of porcelain, creating a stunning visual and seamless design.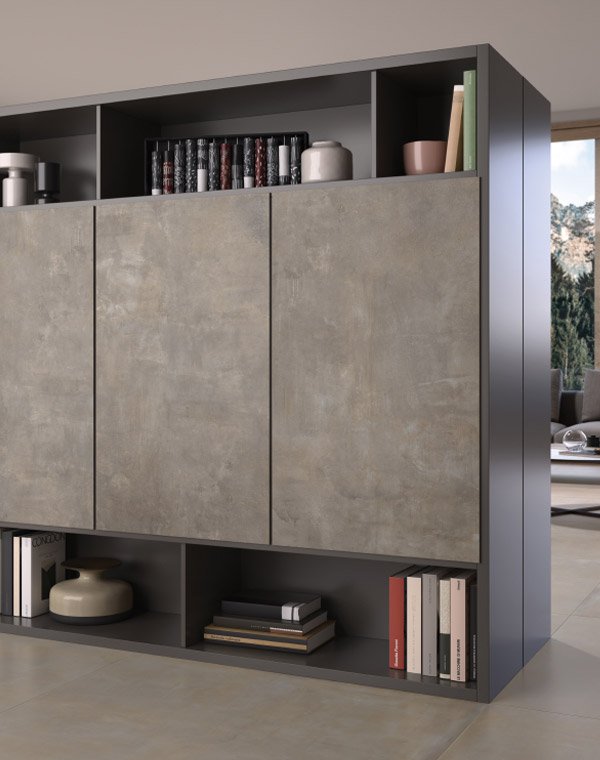 FURNITURE
The best answer to a big trend. Maximus is ideal for dressing up modern spaces and covering doors, tables, kitchen doors or living room furniture. Choose your favorite decorating style in order to create a coordinated environment. Marble, metal, stone and concrete become part of the interior design without any compromise.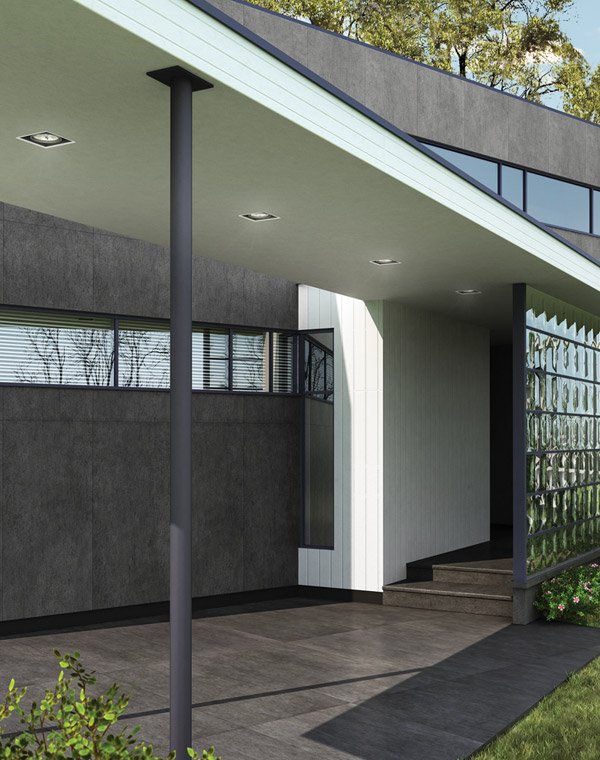 FACADE
The technical performance of the gigantic sized Maximus slabs are the perfect solution for the external cladding of buildings. High resistance, light weight,  easy to install and maintain, with a high aesthetic and energy value that enhance the building industry.
MARBLE
A wide and varied range of collections inspired by the elegance of marble to offer hundreds of solutions for residential areas, hospitality industry and business places. Revised classy marble and granite patterns displaying elegant veins which remodel walls floors, countertops and furniture, creating sophisticated ambiances. Maximus marble collections are the epitome of luxury and sophistication. Also available in the trendy Open Book effect in a huge range of sizes, thicknesses and design solutions.
CONCRETE
Maximus' concrete collections make a powerful statement with their sheer simplicity. No fuss, no frills, just pure perfection. Packed full of contemporary style, the concrete effect big slabs are the ideal choice for creating a minimalist look and feel. Applied on furniture or indoor and outdoor cladding, the Maximus solutions are strikingly bold and beautiful, inspired by the simplicity and strength of industrial concrete
METAL
Maximus celebrates the dramatic effects and contrasting colours created during the ageing process of raw metal. With a bold and arresting appearance, the Metal collection is perfect for urban and industrial settings and is suitable for indoor and outdoor applications.
STONE
Maximus reinterprets the ancestral charm of stone and transforms it in one of the most favorite material in contemporary architecture. Solid, durable and extremely versatile. Maximus stones can be applied both indoors and out, and ar e designed to interpret both more minimalist tastes as well as the more refined and stylish ones
UNI
Standing at up to 135x305cm in multiple choice of solid colours, Maximus mega slab Uni collection can be used to cover walls, floors, facades, furniture or as a replacement for kitchen surfaces and bathroom vanity units. Available in all the sizes and thicknesses of Maximus range, UNI is a must for architect and interior design projects.
WOOD
Natural-looking tiles are one of the key trends for indoor and outdoor surface coverings, and wood is one of the most popular choice thanks to its versatility and beauty. The reinterpretation of wood aesthetics in large format porcelain tile creates an opportunity in designing spaces with warmth and coziness, in the grandest way possible. Maximus wood collection brings life to spaces; ideal choice for modern and contemporary interiors.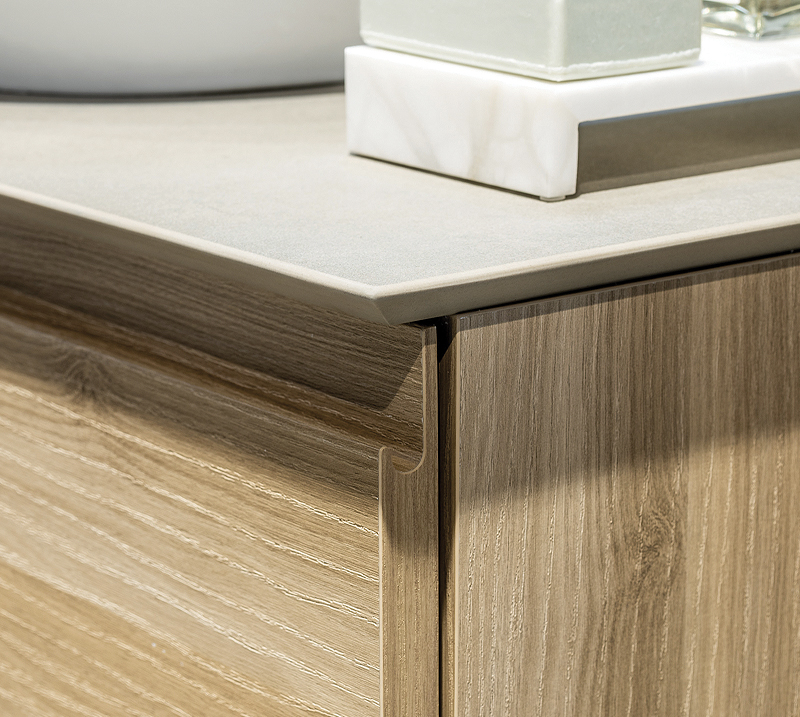 Choosing the right edge for your countertop
In any interior design project it is often the details that set it apart, and choosing your countertop edge is not a detail you want to overlook. The edge can complete the style of your dream kitchen or bathroom. Maximus standard and special edges are the finishing touch to your countertop installation.
RAK E-System
RAK E-System is a worldwide exclusive by RAK Ceramics. It's the ideal and innovative solution to the current needs of designers who need to combine the aesthetics of a natural looking product with the versatility of porcelain slabs.
Thanks to its innovative and high performance materials, Maximus slabs can be easily processed to obtain glossy or matt thick edges, just gluing 2 overlapping slabs (14.5mm+14.5mm) according to the standards of natural stone.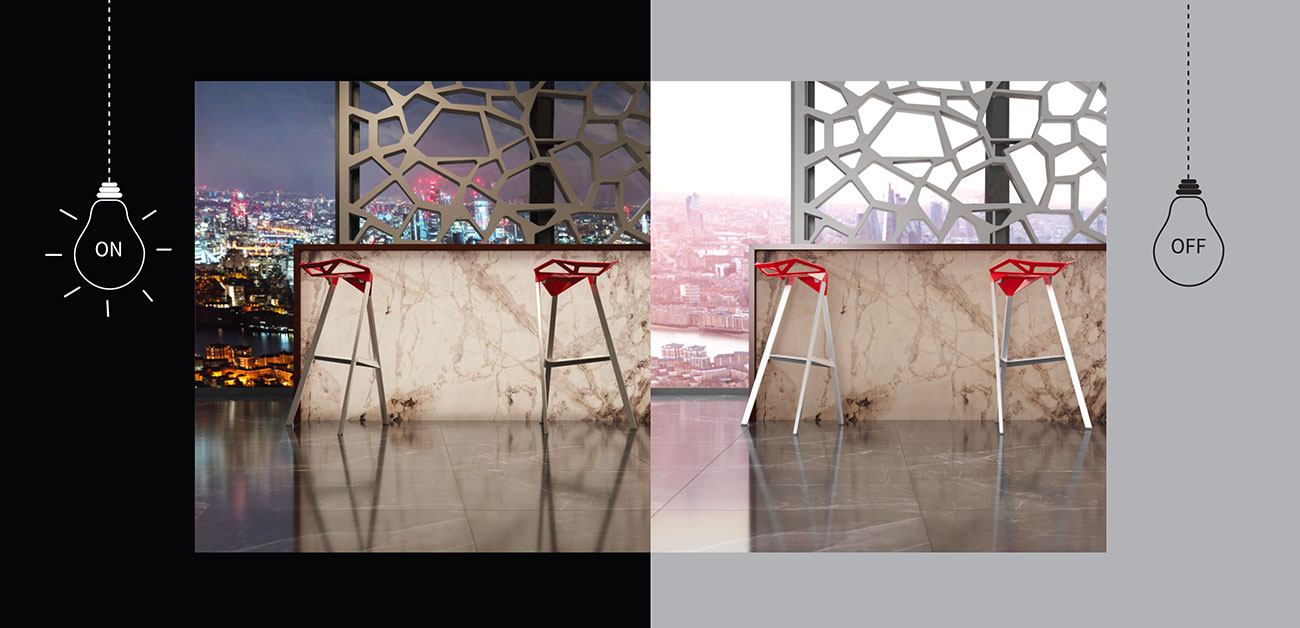 TRANSLUCENT TILES FOR SPECIAL ENVIRONMENTS
Light becomes a design tool in the hands of the designer and through elegant surfaces contributes to enrich special environments, making them magical.

We are honored to provide you with a definition and previous experience about our company, hoping that you will be accepted as we are a pioneering institution established since 1976 working in the field of contracting, industry and trade under the name of
"Al-Kulaib Enterprises Group for Trade and General Contracting", and the group is divided into several sections.
Head Office: Al-Kulaib Group Building - Al Rams St. – Ras Al Khaimah – United Arab Emirates
© 2023 Al Kulaib Group. All Rights Reserved